CDBG-DR Hometown Revitalization Grant Program
---
Overview

The Florida Department of Economic Opportunity has allocated $60 million in Community Development Block Grant – Disaster Recovery (CDBG-DR) funding to support the revitalization of commercial areas that were impacted by Hurricane Michael. Jackson County is applying through a competitive process for a portion of these funds to make improvements to a defined commercial corridor impacted by Hurricane Michael. This funding can be used to make repairs to privately-owned commercial structures to help revitalize the community. The submission of an application to the State of Florida by Jackson County does not guarantee that we will receive these funds.

Target Area

Jackson County will focus its grant application in the triangle intersection area of Highways 90 and 71 in the unincorporated area. Businesses located along these roads and within this defined boundary shown on the map below are encouraged to contact us to discuss their repair and improvement needs. This area was selected as it met the grant criteria for commercial corridors and needs revitalization after Hurricane Michael. Other municipalities within Jackson County may be submitting additional applications for commercial areas within their jurisdiction.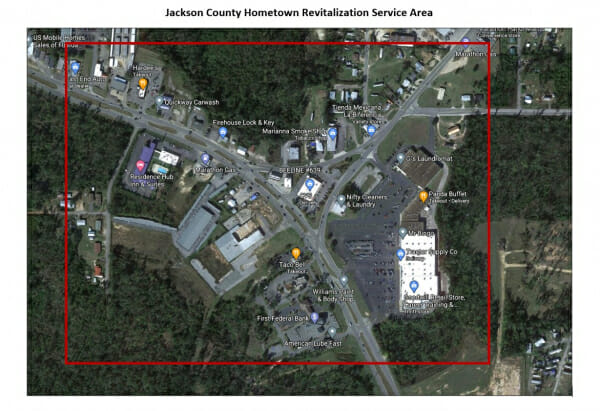 How to Learn More

Businesses that would like to learn more about this opportunity can click on the program summary below or contact Jackson County Grants Coordinator Sydney Armstrong at (850) 718-6570 or armstrongs@jacksoncountyfl.gov.
PROGRAM SUMMARY

How to Participate

Businesses that are interested in participating in this grant application can complete this short online form to provide contact information.
ONLINE FORM

County staff will be in touch with you to discuss your repair needs and collect some documentation from you.

ALL INFORMATION MUST BE COLLECTED FROM BUSINESSES BY MARCH 10,2021 TO PARTICIPATE IN THE GRANT APPLICATION.