The Jackson County Parks and Recreation Department acts as the manager of county owned properties designed for use as park sites. The department is charged with guaranteeing the integrity of the property through thoughtful planning and management of resources and promoting programs, activities, services, and facilities.
The Parks and Recreation Department enhances the quality of life and well-being of County residents through a regional parks system that:
Provides quality landscapes, facilities, programs, and events that meet citizen needs for leisure and recreation.
Conserves natural and cultural resources, while offering educational programs to enhance the knowledge base for citizens.
Contributes to the economic vitality of the County.
Jackson County Recreational Areas, Boat Ramps and Landings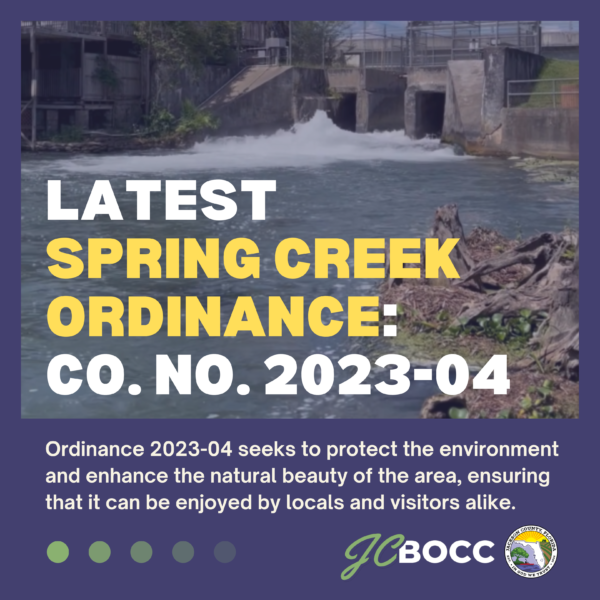 Chipola River
Christoff Ferry Boat Ramp – 4020 Christoff Ferry Lane Marianna, Florida 32446
Magnolia Boat Ramp – 4753 Magnolia Road Marianna, Florida 32448
Peacock Bridge Boat Ramp – 5202 Fishery Road Marianna, Florida 32446
Yancey Bridge – 3117 Caverns Road Marianna, Florida 32446
Compass Lake
Ski Inn Boat Ramp – 348 Lakepoint Road Alford, Florida 32420
City Square Boat Ramp – 571 City Square Road Alford, Florida 32420
Merrit's Mill Pond
Hunter Fish Camp Landing – 2944 Hunter Fish Camp Road Marianna, Florida 32446
Ocheesee Pond
Ocheesee Pond Boat Ramp – 1318 Arkansas Road Grand Ridge, Florida 32442
Chattahoochee River and Lake Seminole
Arnold Boat Ramp – 3316 River Road Sneads, Florida 32460
Buena vista – 7583 Buena Vista Landing Road Bascom, Florida 32423
Howell Boat Landing – 2536 River Road Sneads, Florida 32460
Neal's Landing – 7001 Hwy. 2 Bascom, Florida 32423
Parramore's Boat Landing – 7768 Parramore Road Sneads, Florida 32460
Three Rivers Boat Ramp – 2406 Lakeside Drive Sneads, Florida 32460
Gulf Power Boat Ramp – 8599 Gadsen Trail Sneads, Florida 32460
Contact
3530 Wiley Drive
Marianna, Florida 32446