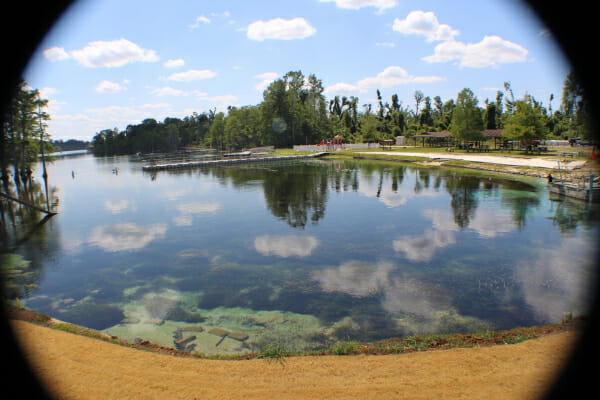 Located at:
5461 Blue Springs Road
Marianna, Florida 32446
(850) 482-2114 or (850) 866-9897
Location and History
Blue Springs is located approximately five miles east of Marianna. The spring, which is listed First Magnitude Spring of Florida, supplies water to a 202 acre reservoir known as Merritt's Millpond, a nationally known fishing site. More than forty years ago, the Federal Government owned the Blue Springs site and operated an officer's club for members of Graham Air Force Base.
For approximately forty years, the primary spring and head water of the Millpond has been leased to Jackson County and managed as a recreation area with swimming, picnicking, and limited SCUBA training and exploration. Merritt's Millpond serves as one of Jackson County's most popular fishing and boating areas.
Scenery and Wildlife
A variety of natural wooded growth indigenous to the area can be seen at the site, including ferns, Cypress stands, Pines, Magnolias, and other hardwoods. Typical animals include those associated with hardwood forests, and certain bird species, such as Kingfisher, Rough-winged Swallow and Bank Swallow. Blue Spring's cave complex provides a home for two rare obligatory aquatic cave dwelling animals, Georgia Blind Salamander and Doughterty Plain Cave Crayfish. Historically, this site has been used by the public for recreation and can be accessed via the water or a County paved road.
Why you should visit
Jackson County has completely revamped this beautiful recreation site. It is just stunning, the water is more clear than Lake Tahoe, and water temperature is just perfect for swimming on a hot day. If you need time to relax, this is the place to go. It has volleyball courts, a new children's playground, park benches, a beach to lay out on, new boating docks, and much more.
Admission Fee:
$4.00 per person
Seasonal passes are available for $30.00 a person with photo ID or accompanied by an adult.
Rentals:
Tube, Volleyball, and Basketball rentals are $5.00 Per day
Canoes: $10.00 per hour.
Large Paddle Boats: $10.00 per hour
Small Paddle Boats: $10.00 per hour
Reservations:
Pavilion 1 (by beach): $100 per day including tax. All other pavilions $80.00 per day including tax. Cave Diving $30.00 per day – $15.00 each additional day or $150.00 for annual pass.
*Divers must check in with Cave Adventurers @ 5211 Limestone Lane Marianna, Florida 32446!*
Please note that no animals except service dogs are allowed in the park.