Press Release – Commissioners Break Ground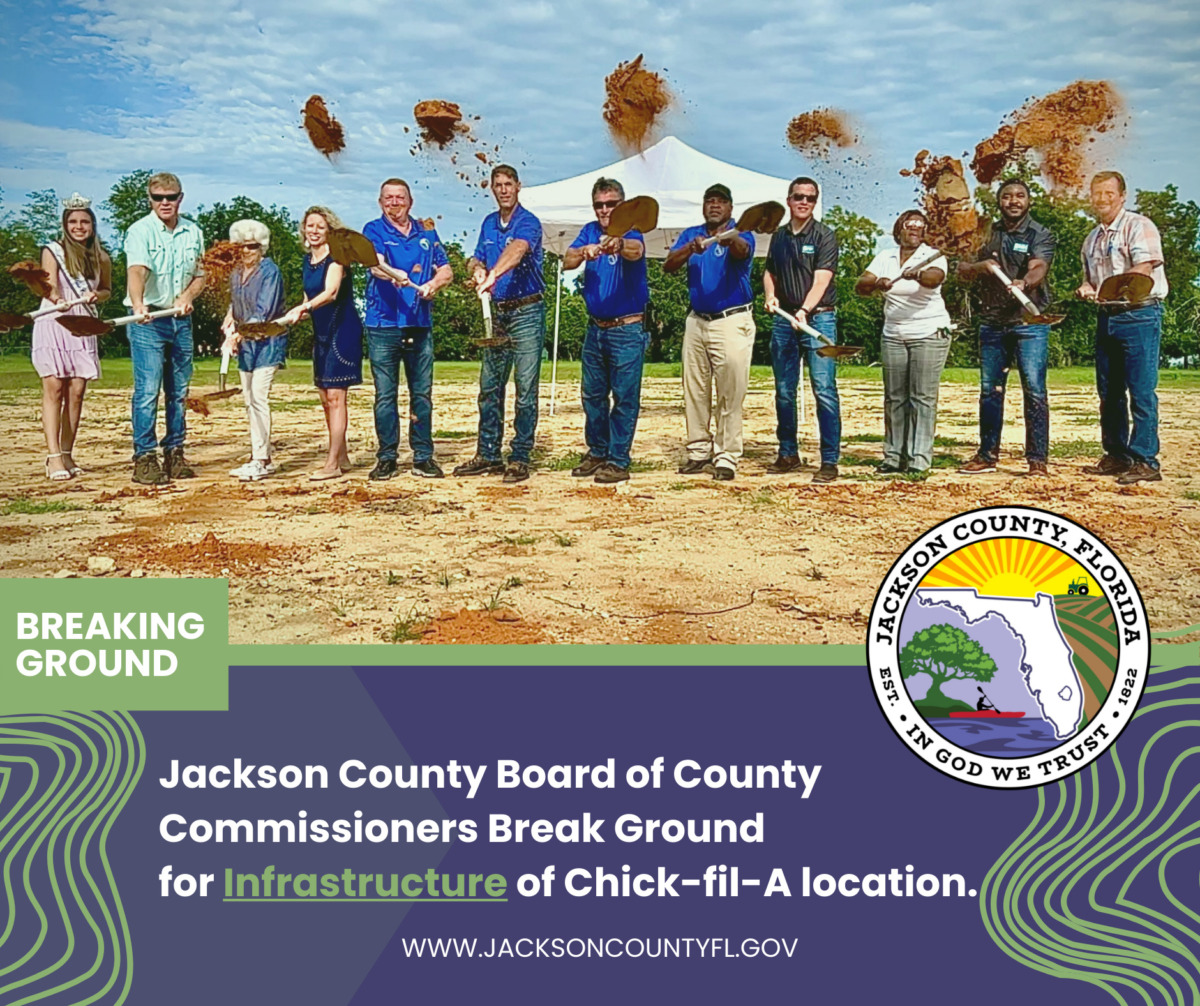 Jackson County, FL. – On July 25, 2022, at 8:00 am, the Jackson County Board of County Commissioners participated in a Groundbreaking to commemorate the beginning of construction for infrastructure of "Project Glad."
"Project Glad" is a unique and highly anticipated Economic Development Project that has been a joint venture between the Jackson County Board of County Commissioners, Jackson County Economic Development, and a private developer. The project is to construct and operate a "Chick-fil-A" along HWY 71, just south of the I-10 interchange. The property, formally home to a small floral distribution plant, has been identified as a prime location for economic development. Upon successful completion, the county envisions this project to be the catalyst of a diversified commercial park in the area.
The Board of County Commissioners play a special role in this project relating to the actual infrastructure needed to support a Chick-fil-A franchise. Specifically, Jackson County applied for a Rural Infrastructure Grant from the Department of Economic Opportunity to demolish the existing abandoned warehouse and to design, permit, and construct the public roadways and utilizes from SR 71 to serve the project site as well as future commercial developments within the property. The total cost for these improvements is estimated at $994,712.10. In return for the County's efforts, the developer has committed to create at least 10 full time jobs for the project as well as $2.5 million in capital investments. The developer will construct an approximately 5,000 sq/ft building and associated parking lot to house a Chick-fil-A restaurant. This project is being hailed as critical infrastructure project in Jackson County to bring much needed jobs to our community.
On Monday, the Commissioners attended a ceremonial Groundbreaking of the site to begin infrastructure construction. Breaking ground for infrastructure is an exciting moment for projects such as this. Whether intentional or not, it serves as a metaphor of sorts. When the average citizen considers the arrival of a new business or restaurant, they don't typically consider the work that goes on behind the scenes. They aren't aware of timelines, requirements, and intensive planning that it takes to make this type of ambition a reality. They simply want to know two things regarding the final product, "What?" and "When?". However, to arrive at the answer to those questions, we must first know the project will have a foundation that facilitates success.
The votes and support of the Board, along with diligence and hard work from County staff and partners, have been the driving force behind laying a firm foundation for Chick-fil-A. The County is proud of the work and contributions of everyone involved that have brought us to this point.  
###