PRESS RELEASE: New Board Chairmen
PRESS RELEASE FOR IMMEDIATE RELEASE
CONTACT: Dylan Bass / Public Communications Officer
(850 )573-1327
bassd@jacksoncountyfl.gov

December 12, 2022
Jackson County BOCC Elects New Chair & Vice Chair
Jackson County, FL. – Jackson County BOCC elects its Chairman and Vice Chairman for two-year terms. A member may serve multiple terms in these seats but must be reappointed in two-year increments. The role of Commission Chairman is to preside at all BOCC meetings, preserving order and decorum. In the absence of the Chair, the Vice Chair presides.
On November 22, 2022, at 9:00 am, the Jackson County Board of County Commissioners held a Regular Meeting. During this meeting, the Board swore-in two newly elected Commissioners to their seats. Edward Crutchfield, District 2, and Donnie Branch District 4. After swearing-in the new Commissioners, the Board appointed Paul Donofro Jr., D3, as Chairman of the Board, and Alex B. McKinnie, D1, as Vice Chairman.
---
Paul Donofro Jr. was elected to represent District 3 in 2020. Commissioner Donofro graduated from Marianna High School in 1975, Chipola College in 1978, Florida A&M University with a Bachelor of Science in 1981, and the University of Florida with a Masters in Architecture in 1983. Mr. Donofro was registered with the State of Florida as a licensed Architect in 1986 and is currently the owner of Donofro Architects located in Marianna. Commissioner Donofro served the City of Marianna as a City Commissioner from 1991 to 2015 and was elected as the Mayor of Marianna in 1993, 2000, 2003, 2009 & 2014. He is currently a Director for Chipola Habitat for Humanity, and the Jackson County Chamber of Commerce and serves as a Trustee for the Marianna First United Methodist Church. Commissioner Donofro is married and has two children.
Alex B. Mckinnie was also elected to the Board in 2020, to represent District 1. Commissioner Mckinnie is a lifelong resident of Campbellton, Florida, and is a 1982 graduate of Graceville High School. He earned an Associate degree in Electronics in Tampa, adding an Associate degree in Mortuary Science from Jefferson State College in Birmingham, Alabama in 1986, and finishing with a Bachelor's degree in Business Management from Troy State in Dothan in 1992. Commissioner Mckinnie has specialized in electronics for over 33 years with the last 20 years being spent devoted to the United States Army as a Defense Contractor. He previously served the Town of Campbellton for 10 years as a councilman. His work there included projects that focused on recreation, economic, and infrastructure development. Additionally, he is also involved in numerous civic organizations, as well as being a co-owner of McKinnie Funeral Home, LLC, and McKinnie Funeral Home Inc. Commissioner McKinnie married and has one child.
---
Commissioner Donofro stated "I'm very much honored to have been elected as the Chairman of the Board of County Commissioners and look forward to serving over the next two years. As I have stated many times from this seat, and as former Chairman Peacock has stated, we have many challenges in front of us. But, as often is said, with challenges comes opportunities, so I believe there are great opportunities ahead. That being the case, I look forward to working with Wilanne (County Administrator) and her staff, as well as my fellow Commissioners. I believe that with all the tough decisions ahead of us that we will have the wherewithal to be able to make decisions that will move Jackson County forward. I would like to thank former Chairman Peacock for his work. He has certainly displayed strong leadership and dedication to serving not only the citizens of his district, but the citizens of Jackson County as a whole. On behalf of the staff and the citizens, we certainly appreciate his hard work, diligence, and professionalism in serving not only as County Commissioner, but as Chairman."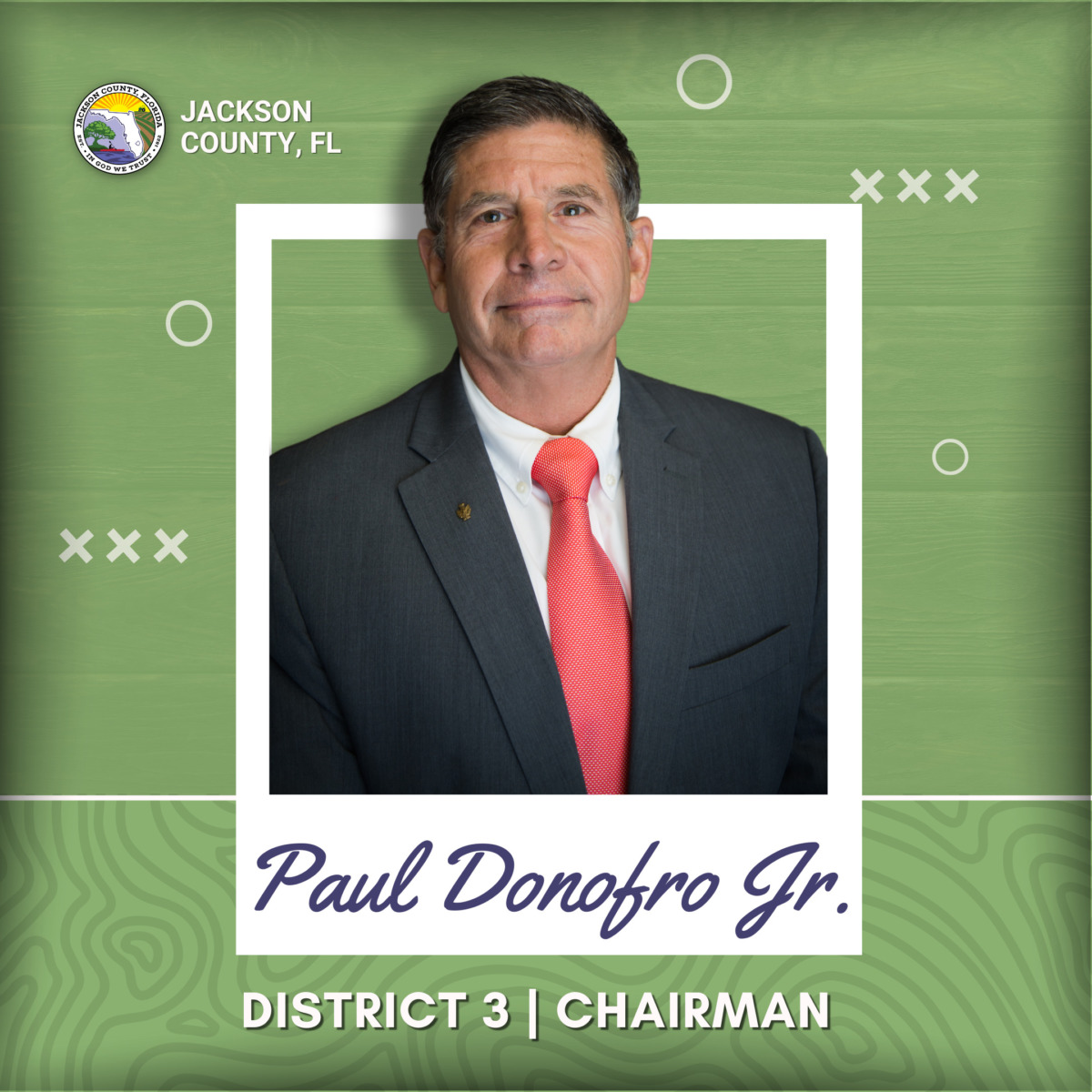 ###